Answer the Call When You Need It.
No one knows when you will need to activate, deploy, and respond to the next emergency. Make sure your volunteers are ready to go. Samaritan's systems are specifically designed to facilitate every aspect of your responder needs from training, drills, activation, deployment, and incident response reporting. We are your true responder management software.

ESAR-VHP Credentialing
We are your true ESAR-VHP compliant volunteer management system, ready to capture and screen your service volunteers before deployment. Our system captures all required information and can screen for 200+ professions. Applying the correct ESAR-VHP level for proper credential management is handled seamlessly throughput the process. Post-event reporting makes your information accessible at a moment's notice when working with state and federal responder teams and compliance personnel.

Response Deployment
Make sure your teams are up to date and ready to respond. Interactive responder dashboards show volunteers exactly where they stand on necessary requirements for service. Capture annual compliance, education, certification levels, professions, and so much more. Need your volunteers to have a badge before they check-in at a deployment site? Our systems can create badges, complete with volunteer pictures, deployment assignment, and credential verification.

With our omnichannel communication module, you can easily notify and activate responders within moments of receiving the instructions to mobilize. Personnel can receive text messages or telephony alerts, and respond with their willingness to deploy. Responder management teams can preset these communications so when the need is there, activation can happen within seconds

Demobilization and Post Event Reporting
Need a system that can track not only your activation, deployment and response, but also your demobilization activities? Samaritan has you covered. Track your incident and events in our system for easy follow-through at the end of your deployment. List of tasks can be assigned for completion and approved by personnel, capturing chain of custody and sign-off. Unit information can be updated by the push of a button using our automations module, and information can come in and out of the system using our robust integrations. Samaritan's systems have all the bases covered.

Event Dashboards
Have all your statistical information at your fingertips with our dashboard reporting. In an emergency, every second counts. Remove the need to run specialized reports by staging your "must have" information in easy to see business intelligence mapping. Responder team managers can see any combination of data specific to their part in the activation, deployment, and event process. Need to see your data by ESAR-VHP level and profession? No problem. Our dashboards can show all volunteer type plus their corresponding designation in the system.
Need to see your data by ESAR-VHP level and profession? No problem. Our dashboards can show all volunteer types plus their corresponding designation in the system.

Need More? We've Got It!
No one prepares you for your next emergency better than Samaritan. From in-app background checking to post-event surveying, we've thought of all the ways you need a software platform to perform when the needs count.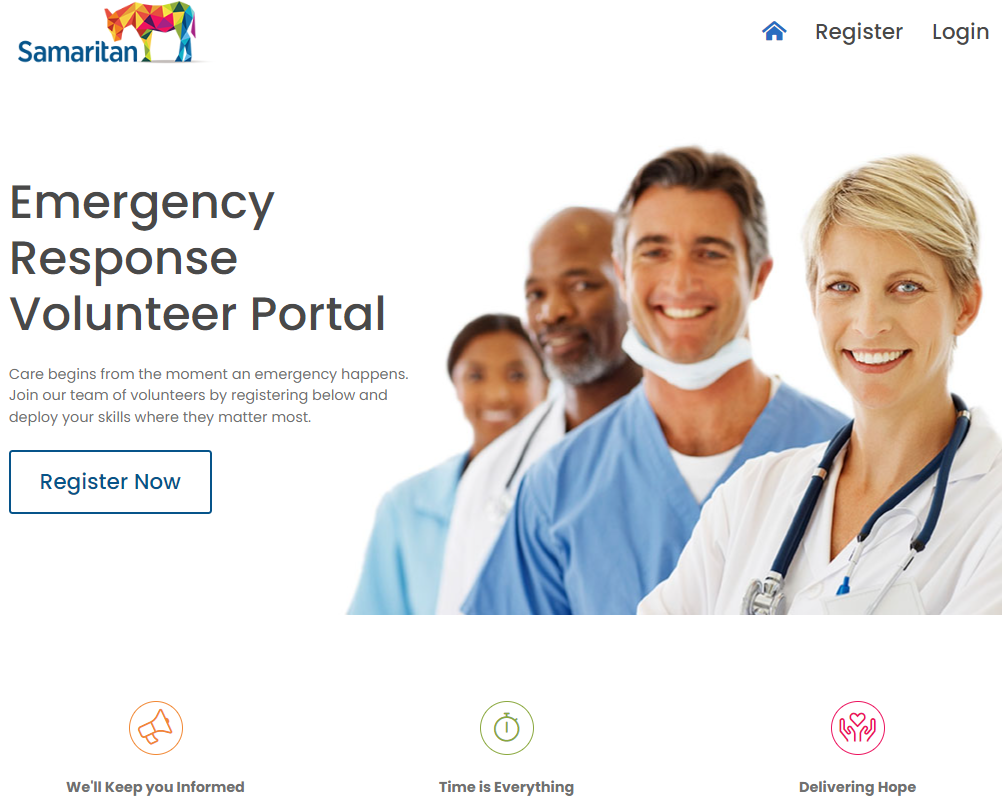 265 East 100 South,
Suite 290
Salt Lake City, UT 84111
(888) 904-6060
(801)-328-3972